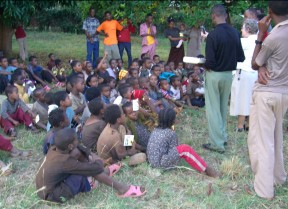 Meetings for children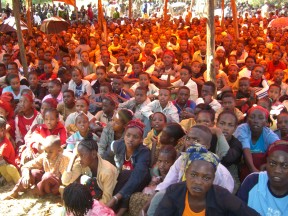 Sabbath audience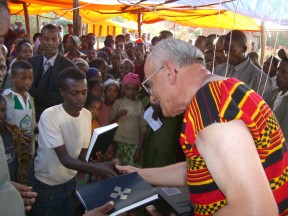 Bibles for baptismal candidates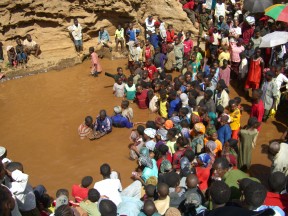 Baptismal site
Bedesa, Ethiopia meetings - Jan 26 - Feb 10, 2007
February 23 2007 / ShareHim in Ethiopia, Jan. 26 - Feb. 10 '07
#122
by Charles Haller
Campaign Site Narrative from Bedesa, Badesa in Ethiopia. The speaker assigned to this site was Charles Haller.
Our group of three stayed with members of two other teams in a hotel in Wolayta Sodo. Our daily worships were a great encouragement to all three teams. One issue that we discussed with our translators and other local Adventists was the stern discipline that was used on the children. We felt so sorry for them when they were hit with whips and sticks for making noise. We had large numbers of children who usually sat at the front of each meeting.

The Bedesa site was at the same time more than we expected and much less than we expected. We had very limited electricity for the first three meetings. There was just enough juice to operate one microphone but nothing else. A generator was brought to us halfway through the fourth meeting and we had adequate electricity for everything to operate properly from that time on. When the generator was brought in that caused quite a disturbance during the meeting but God helped us continue the meeting through it all.

The devil tried his best to interrupt our meetings. There were three episodes with poisonous snakes and two episodes of a girl with epileptic seizures. Order was restored fairly quickly with all of these events.

We were expecting an attendance around 700 and averaged over 1500. There were between 2500 and 3500 at the last three meetings. More than 1500 people took their stand for Jesus and the Lord blessed with 168 people baptized so far. There are more than 50 people planning on baptism in the very near future.