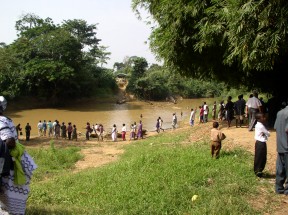 Baptism 26-Feb-2005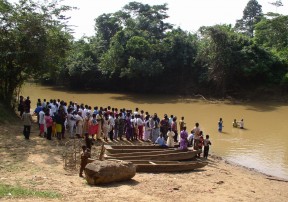 Baptism site - Note dugouts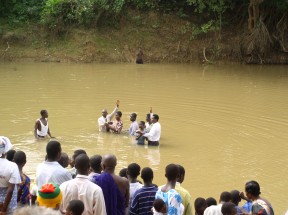 Pastors Adjare and Wahoo do double duty!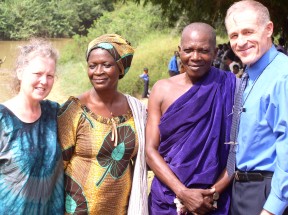 Sister Comfort Anim, translator for Linden, Manso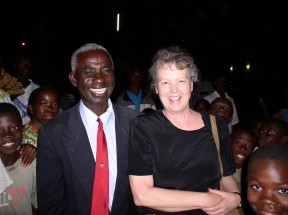 Marilyn and Samuel, her amazing translator
Amy with friends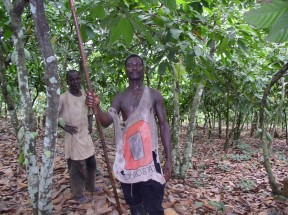 Chocolate Farm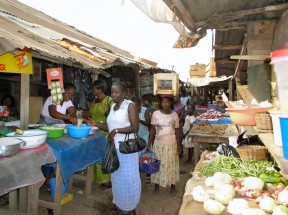 Akim Oda Market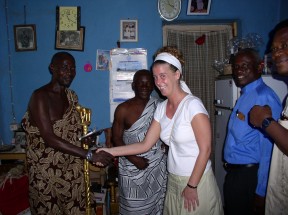 Amy greets town officials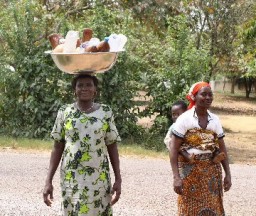 Note traditional way of carrying children & goods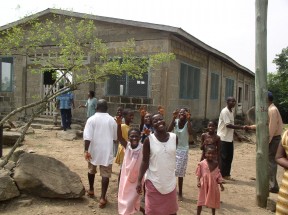 Manso SDA Church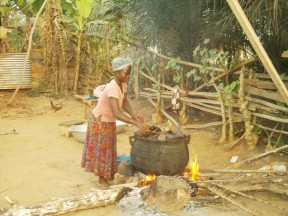 Cooking in Manso
God Touches Hearts in Ghana
February 26 2007 / ShareHim in Ghana, Jan. 21 - Feb. 5 '05
#124
by Marilyn Lawrence
Campaign Site Narrative from Akim Asenie Playing Ground, Akim Asenie in Ghana. The speaker assigned to this site was Marilyn Lawrence.
This is just one of God's promises that we heavily relied upon as we stepped out to the call to preach the gospel in all the world:

"Be strong and courageous, do not be afraid or tremble at them, for the LORD your God is the one who goes with you. He will not fail you or forsake you."
(Deut 31:6 NASB)

God is at work around the globe, in the most enlightened places and in the darkest places. The miracle of ShareHim is that as we sought to reach others, God sought to reach us. And true to His word, He manifested Himself in vast and diverse ways in Ghana, West Africa the early part of 2005.

How did God speak? Was it that first evening as the people came and we quaked in our shoes? There we were, Linden in the small village of Manso, and I, Marilyn,in Akim Oda town central. Was it the open air settings or in all the helping hands we could handle? Was it through our amazing translators? Was it in the refreshingly cool evening breeze that we so badly needed? Or was it in the tears our daughter Amy shed as she listened to her mother's passion for Jesus and as she opened her heart to Him? All these spoke to us of God's provision, His never failing presence, His keen desire to reach us and the people who came to hear a "white" person speak.

Could we fill the role we felt God calling us to fill? Certainly not in our own strength! We were strong, not because of our muscles or our intellect, but because of our God!

To survey the people, their bright eyes and big smiles, to see them through the eyes of God, was an experience every follower of Jesus must experience. How wise He was to leave us with the gospel commission to go!

We retain the thrill of seeing many people baptized on hot, humid Sabbath afternoons in a murky African river. A river stirred up by "boat" travel, cattle drives and panning for gold. A large shade tree provided relief to us soft Americans as little girls fought to carry our water bottles. What joy filled us as one by one those precious souls filed into the water and committed their life to follow Jesus.

The hearts and lives of each were changed. Our daughter Amy went on information overload as she heard the Three Angels Message for the first time. We prayerfully anticipate how God will manifest Himself in her life. We the speakers, our translators, the pastors and local conference workers all stood in awe as God worked. What a privilege! What a blessing then and now.