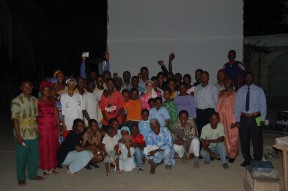 Family picture, took two nights before the end of the campaign.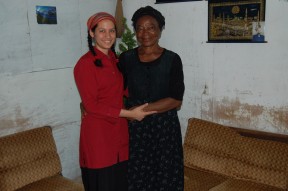 The woman who lent us a part of her land so that we could make the campaign. She is muslim.
God Is So Good!
April 27 2006 / ShareHim in Cameroon, Jan. 6 - Jan. 21 '06
#13
by Virginie Pothier
Personal Testimony of Virginie Pothier.
I want to thank Quiet Hour for the opportunity you, and ShareHim/Global Evangelism gave to us to travel to Cameroun to have wonderful experiences in sharing the love of God. It has been a great experience for me. I have a better vision now of what God is wanting from me and that is to share his love to those who doesn't know him.

I am from Tahiti and presently study at our college in France. It was a wonderful experience to see the Lord at work.

Virginie POTHIER