Charles Pea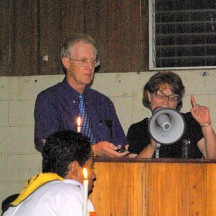 Preaching by Candlelight
An Unexpected Candlelight Service
July 19 2007 / ShareHim in Nicaragua-B, Jun. 15 - Jun. 30 '07
#171
by Charles Pea
Personal Testimony of Charles Pea.
We signed on to ShareHim for me to preach and for my wife to translate. Of our group of around 40, about 30 were teens who were part of a teens4missions project. What a blessing to see the energy and enthusiasm of a group of teens directed toward preaching the gospel! At the morning worship meetings it was a tremendous blessing to hear these young people tell of their experiences of the night before when they preached and made calls and people responded by coming to the front to give their hearts to Jesus. These same teens pitched in and did the work of the hotel employees, such as washing dishes and cleaning so the employees could attend meetings held just for them. Before they left, six of the teens and one of their translators were baptized.

My wife and I were accepted and loved by our new church family and were made to feel at home. Since power outages are a way of life in Managua, we were not surprised to find that there was no electricity when we arrived at our site one evening. However, they expected the lights to come on in about an hour. Around 6:45 people started to arrive. At 7:00 they started a song service, in the dark. About half an hour later when the lights came on, to my surprise, the church was full.

A few nights later when we arrived, there was no electricity and there was no hope that it would be coming on. While my wife and I wondered if we should cancel, the pastor said, we cannot cancel because there are several visitors here. So they brought four small candles to put on the ends of some of the pews to give some light to the congregation. They then put a candle on each side of our pulpit so we could read our notes. They then handed my wife a battery powered megaphone (bullhorn) for our PA system and with the battery on the computer we proceeded with the service. It never occurred to the pastor and the church leaders to cancel the service because of no light, and it turned out to be one of the most powerful sermons we preached.

During our last Sabbath, we were thrilled to witness and participate in the baptism of 16 people. Later that afternoon, we listened as some of the newly baptized members told of how they had been blessed by the meetings. One sister in particular told of returning to her home one evening after the meeting and being confronted by a man intent on robbing her. He put a machete against her shoulder and told her to give him everything she had, or else. She told him that she had nothing but her Bible and not a penny more. He insisted, but she said she had nothing and that she was a Christian and was coming from church and she offered to give him the Bible. He jumped back and said, "I will never hurt a Christian. I will easily kill someone else, but never a Christian!" and he let her go unharmed.

We received much more than we gave and came home changed and ready to do it again. What a blessing to get to know these precious people as friends and members of the family of God. ShareHim is a great way for anyone, young or old, to get involved with spreading the gospel and hastening the day Jesus will come again.