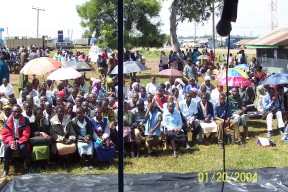 Congregation on Sabbath morning.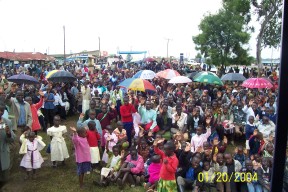 Congregation #2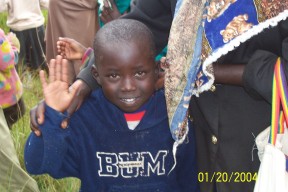 One young attendee.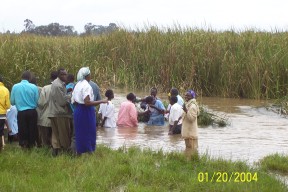 Baptism
Reaching Souls Despite Tragedy in Kenya
October 5 2007 / ShareHim in Kenya D, Aug. 24 - Sep. 8 '07
#220
by Larry Graack
Date Block Report
With an average of 200 people a night, I enjoyed this ministerial experience. I am a third year theology major at Pacific Union College. I enjoy it very much, and being able to do things such as this makes me love it even more. My site had about 40 baptisms, and together with one more site, there were a total of 95 baptisms. I was told that 27 people gave their lives to God and wanted to be baptized because of the meetings from my site. It is such an amazing experience being a tool for God in this manner.

One thing that made it hard to preach was that it rained almost everyday during the meetings. There were always a nice group of people who would stay in the rain and wouldn't care. One night, there were about 140 people standing out in the pouring rain wanting to hear the message.

There was an incident that happened not 200 feet from me that affected me that day. It was a Thursday, and I was to preach about the Sabbath when a horrible accident happened near my site and killed 4 people. It involved a tractor, a bus, and some people on bikes. I prayed with the people at my site for the friends and family who died in the accident. And although we experienced this tragic event, God blessed me and my site, and I am very glad I got to go and be a part of his work.