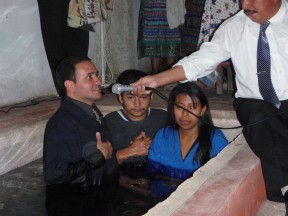 Baptism of a Couple
The Gospel in Shoes
June 19 2008 / ShareHim in Guatemala, May. 23 - Jun. 7 '08
#299
by Lee Whitman
Personal Testimony of Lee Whitman.
As I reflect back on my experience in Guatemala, it is natural to want to talk of the baptisms that took placed or how many attended the nightly meetings. These are very tangible proofs of all the labor given. But I want to share what I believe is the essence of the whole trip and the gospel-oriented approach every Christian should apply, no matter where he or she reaches out into the world for Jesus.

To explain my approach, I need to share some three quotes: two from the Bible, and one from the Spirit of Prophecy:

James 1:27: "Pure and lasting religion in the sight of God our Father means we must care for orphans and widows in their trouble…."

Matthew 25:34-36: "Then shall the King say unto them on His right hand, Come, you blessed of My Father, inherit the kingdom prepared for you from the foundation of the world: For I was hungry, and you gave Me food: I was thirsty, and you gave Me a drink: I was a stranger, and you took Me in: Naked, and you clothed Me: I was sick, and you visited Me: I was in prison, and you came unto Me."

Ministry of Healing, p. 143: " Christ's method alone will give true success in reaching the people. The Saviour mingled with men as one who desired their good. He showed His sympathy for them, ministered to their needs, and won their confidence. Then He bade them, 'Follow Me.'"

In all cultures, when you show a genuine interest in people, they will, for the most part, show an interest in you and what you believe. With this preface, let me now share my experience in Guatemala:

Guatemala is a country of contrasts. Guatemala City was where I worked, and it is a prime example of those contrasts. There are the few wealthy, who easily mingle with the many poor in the city. There are also many kind and generous individuals, who will do anything they can for anyone in need. On the other hand, there are the few who will steal and kill to get what they want.

Out of the last point comes the story I would like to share, which epitomizes the overall point that when you love someone, you are fulfilling Christ's desire for His people.

Most of the time we were in Guatemala City, there was a bus strike, which many of the drivers participated in. But some bus owners decided to keep their buses running, thus putting their drivers in harm's way.

Several times during those couple weeks, anonymous vehicles would drive by these "offending" buses and open fire on the driver, often shooting the passengers as well. One such incident happened in front of our hotel early one morning, which made us realize how serous the situation was and how far some people would go to get their way.

In our particular meeting, we had a middle-aged woman who had been faithfully attending each night. When we were just a few days from the end of the meetings, she failed to come. Later that night we found out her son, who was a bus driver, had been shot and killed, leaving behind a sixteen year-old wife and baby.

A few nights later, the funeral service was held in the family's home. After we finished that night's meeting, a group of us went to the home to support the family in their loss. The rain was coming down heavily, and yet there were so many people there that there many of them were standing outside under a tarp which had water coming through it in many places.

We slowly moved through the crowd, trying to avoid, as much as possible, the water that seemed to be coming in from everywhere. We finally ended up in a back room where the kitchen was, where a couple of dozen people were gathered, including the young wife and her baby. She seemed to bit in a state of shock, as one could only expect. We expressed our sorrow for what happened, and waited for the funeral service to finish, so we could talk with and pray with the mother.

After a few more minutes, the service ended, and the mother came to where we were. You could tell this inhumane act on her son's life was quite a blow to her. We each hugged her, and the pastor shared some words of comfort with her. The pastor then prayed, and then I prayed for her and her family.

By the end, her countenance had changed, and I sensed peace and hope had come to her soul. As we left the family that night, I believe we left them with a glimpse of Jesus' love and care. And I believe that will translate in souls for God's Kingdom.

I believe every part of what we did that night translates directly into our Western culture. Everyone has a desire to be loved in the good and bad times. And when you show your sincere interest in their good, there will be a positive response.

I am thankful for my experience with ShareHim in Guatemala. I believe that I was blessed far more than I blessed those whom I went to minister to. And I hope to see many of those precious souls on the clouds of Jesus, when He returns to take us home.