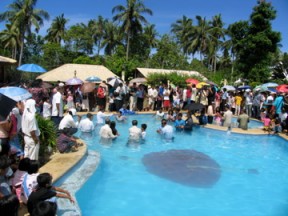 Praise the Lord for many baptisms. New brothers and sisters in Christ
Hard-working, Sincere, Happy People
July 14 2009 / ShareHim in Philippines B, Jun. 19 - Jul. 4 '09
#366
by Kevin Camato
Campaign Site Narrative from New Princesa, Tiniguiban in Philippines B. The speaker assigned to this site was Kevin Camato.
During my mission trip to Palawan, Philippines, my church went to New Princessa church. For my boys who were speakers there, it changed their perception of life and their view of the mission field. When we got there, we met people who were so willing to help us out even though they did not have to give themselves.

They were so happy with what they had even though it was little. Some would travel 30 minutes on a three-person tricycle stuffed with 10 people just to get to hear the message. It was amazing! For myself, a young pastor, I was able to meet elders and deacons of those churches who were the hardest working men I know. Everyday they would go out on visitation and bible study, while still being able to speak on Sabbath and do lesson study, and afternoon AY while at the same time working in the field or going to their own job. These laymen and elders work harder than some pastors in the States. Their hearts were so sincere also because they prayed that the Lord would give them 20 baptisms and were sad that they didn't get that number, so they worked even harder. I told them it was not about the number of church members but it is about continuing to reach out. They told me that they know it is not about the numbers, but it is about souls for the kingdom, and they meant ever word. It showed through every bible study and visitation they went on. The people in the mission field are amazing people and need our help here in the States whether we go over there to preach or not. God is calling us to do so.