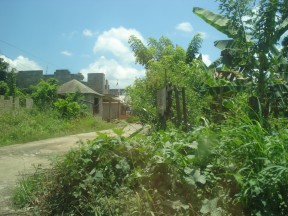 The rugged journey to my church in Moca.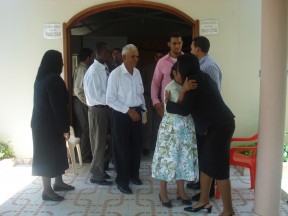 Greeting people after church on Sabbath moring.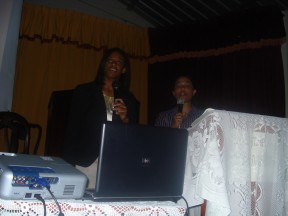 Me and my translator Wanda de la Rosa.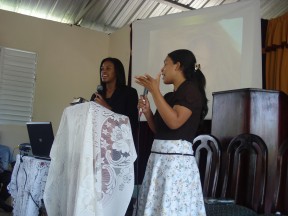 Sabbath morning service with my translator Wanda.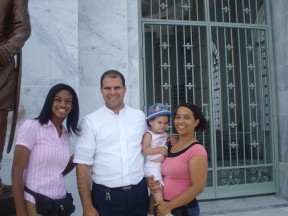 Me, Pastor de la Rosa and his family at the monument.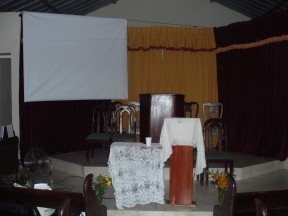 My church: La Sabana in Moca.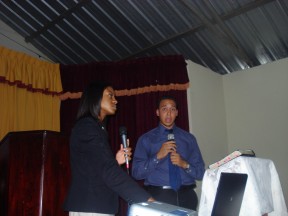 Me and my translator Edwin.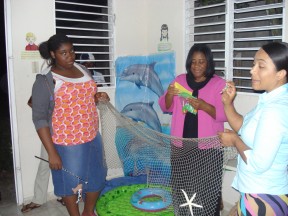 Vacation Bible School at La Sabana led by Sandra Hayden-Swindle, Alaina Stephenson and my translator Wanda de la Rosa
God's Spirit in the Mission Field
July 14 2009 / ShareHim in Dominican Republic A, Jun. 19 - Jul. 4 '09
#367
by Jamala Swindle
Personal Testimony of Jamala Swindle.
Being born and raised in the urban lifestyle of the United States, I have never really experienced being without bare necessities. I have never been one to boast about my possessions and accomplishments, but after visiting the Dominican Republic, I now appreciate all that I have so much more.

As soon as I stepped off the plane into the airport in Santiago, I was immersed into a new culture, where even my own language was perplexing to the natives. I was forced to grasp my new surroundings and adapt. I arrived with an average understanding of Spanish and left with a broader knowledge of it. The climate and the people welcomed me as if I were family.

The members of my church at La Sabana, in Moca, expressed genuine love for me and cared for me in every way possible. Pastor de la Rosa and his wife Wanda not only opened the doors of their heart to me, but also showed me around the area and taught me a lot about their culture. Furthermore, Pastor de la Rosa was dedicated to making sure I was safe by picking me up from the hotel every day and dropping me back off. Many of nights he did not get home until 11:30 pm or later, due to the far distance between the hotel and his house.

The roadways in Moca are also rugged and full of holes, but in spite of it all, he still transported us. This demonstrated to me that he is truly a servant of God and how God will create a way for us out of no way. The members of La Sabana not only treated me to lunch every Sabbath, but even invited me to take a nap on their own beds and get comfortable. Every evening they worked hard to make sure that the program ran smoothly and that contact information was obtained from all visitors.

There were some nights when the power went out and I assumed that everyone would leave, but when it came back on I was surprised to see that not one person had left. On this evangelistic campaign, I learned a very significant lesson: When we allow God to completely use us for the furtherance of His kingdom, nothing can stop Him. For example, during the second week of the campaign I had a really bad cold that even messed with my throat. I did not know how I would be able to speak with chest congestion, a sore throat, stuffy nose and a headache. To make matters even worse, I was the only speaker at my site, so there was no chance of calling off sick. I realized that I needed to pray and trust that God will deliver His truth. By the time I got behind the podium, it was as if I was never sick. My voice was strong and clear and there were no symptoms of a cold. God was truly in control of my body, not only in a spiritual sense, but also physically. He restored health unto me so that he could use me to share the Gospel with others.

When we completely submit ourselves to God, His power and perfect will for us becomes evident. Another example of how God's Spirit worked through me is in the story of a woman named Rosa. She had wanted to fully accept Christ some time ago, but there were minor setbacks. One Sabbath afternoon, my pastor, his wife, my support team and I went to visit her and assure her of the urgency of making a decision for Christ now. She was sensitive to the visit and decided to consider her decision even more. That night's sermon was about baptism by immersion being the true method of baptism. During my call, no one was coming forward and I became discouraged. I continued to remind the audience about how false teachings and traditions have been keeping us from God. When I was about to end the call, the Spirit moved me to keep reaching out. Suddenly, I saw Rosa walking down the aisle, tears flowing from her eyes. It was in that moment, while I responded with tears in my eyes, that I realized the beauty of being a co-worker with God. Not only do I have this special privilege to profess His name, but I also am a witness to His love and amazing power.

It was hard for me to say goodbye to everyone in the Dominican Republic, but I left them with the assuring words that those in Christ never meet for the last time. I told them that I wanted to see each and every one of them in heaven and to share fellowship with them again. From this campaign I have not only realized how much God has blessed me, but also that there truly is a spiritual warfare occurring now and that we must stand for God and oppose Satan. We can only find victory in Jesus and when we implicitly have faith in Him, He can cause mountains to move in our lives. Let us continue to praise Him in the good times and the bad times, for He is worthy of all praise.