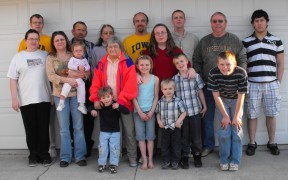 This photo was taken at one of the last seminars we did at my mother's house in her garage.
ShareHim at Home
November 19 2009 / ShareHim in Fort Dodge
#392
by Amanda Schwering
Campaign Site Narrative. The speaker assigned to this site was Lloyd Kent.
There were a few of us from our church who attended the Boot Camp teaching us how to use ShareHim, and as a church we were preparing to do a series of meetings at our church. Unfortunately, do to unseen circumstances we had to cancel, but God gave us the opportunity to use the software we were given. Knowing that eventually we would be doing a campaign, we knew that we would need practice. So we volunteered to help another church and we both spoke just once.

My husband Brian and I asked my mother if we could do a weekly study at her home. She has a television in her garage along with a picnic table and chairs. So we thought it would be a good place to gain the experience we needed but not have to be so nervous being family.

We started using "Truth of Today" in her garage. We all sat around a big picnic table and would have a family meal every Sunday afternoon with after going through each sermon. Jesus is the reason we have come closer together as a family.

Our friends and fellow church members Butch and Martha Kent also started coming and helped us by letting us use their projector and screen. They also helped out by doing some of the sermons. So all together there were four of us speaking. Over a several month period, we finally finished all of the seminars.

There were times we would only have 4 or 6 people listening but at times we would have as many as 14 adults plus kids at the meeting.

Over time we could see Jesus working in some of their lives and of course our own, too. I have never taken an opportunity to teach people about God's love for them until this time. I had been looking for ways to reach people and this is a great tool.

Because of ShareHim, we were able to teach my family about Jesus and my brother was baptized as a result. My mother, step-dad, grandmother and friend have been attending church for several months now. Of the six people who regularly attended the meetings, only one has not accepted Jesus into her heart. I feel there is more work that needs to be done with her.

We have continued a weekly Bible study at my mother's home in Stratford.

In addition to the weekly Bible Study in Stratford, we are preparing to go public with ShareHim at the community center in January. Even though she is not a member of the Seventh-day Adventist Church yet, my mother is volunteering her time to help with this next series.

As an individual I have became more involved in my church and am more active as a Christian. I have learned so much from this series of meetings. I have realized that we cannot stop. There are so many people out there who do not have Jesus in their lives and I know from experience how much they would benefit from accepting Him.