Janice Schnurr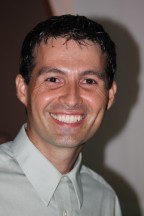 Carlos Alberto,Skilled Translator and friend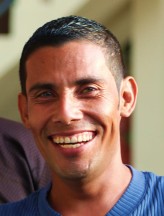 Our faithful and happy driver,Jose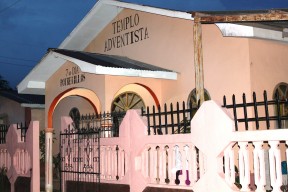 Potrerillos,Puerto Cortes, Omoa, Honduras SDA Church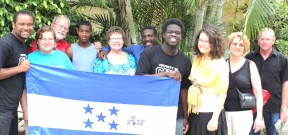 Canadian University College Religious Studies Tour Group to Puerto Cortes, Honduras (Hub City)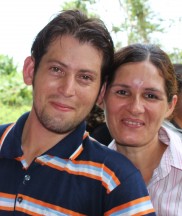 This miracle couple was baptized the last Saturday night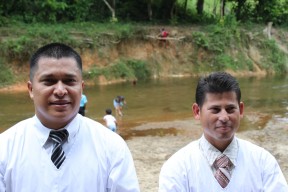 Pastor Samuel Perez and Head Elder Orlando Rodriquez at site of Sabbath morning baptism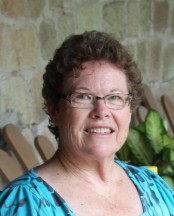 Janice,myself, at Copan Ruinas, Honduras
Cleansing Waters
June 1 2010 / ShareHim in Honduras, May. 7 - May. 22 '10
#438
by Janice Schnurr
Personal Testimony of Janice Schnurr.
Standing at the U.S. Customs counter in our Calgary, Alberta International Airport, I encountered some questions in regards to what was in my equipment case. The long and short of it is some of our Canadian University College group of nine were instructed to ship our cases to Honduras via UPS. They could not accompany us personally. Dr. Bruce Boyd, our teacher and group leader, stayed behind to make sure those arrangements were taken care of while the rest of us boarded our flight to San Pedro Sula, Honduras.

The following day, Wednesday, our group attended the orientation presented at the Northwestern Honduras Conference Office of Seventh day Adventists. I, for one, was very happy to witness the arrival of Dr. Boyd. He had word that a few days would transpire before our equipment would arrive. The Conference office graciously printed our first six sermons for us and on these we began to do our editing.

A week later, I now was in possession of the Share Him equipment and set it in place at my church. As the sermon began I noticed the increased interest and delight amongst the congregation at seeing text and pictures on the screen. I shared in their joy of media and graphics and thanked the Lord for making sure the PowerPoint sermons were available at last. In the meantime I had the privilege of learning from the Lord how to do more editing, conduct the sermons with undivided attention and have good eye contact with my audience. Most of all, with media props gone, I had done more earnest praying. I continuously asked the Holy Spirit to guide my thoughts and lips, to speak clearly to enable the translator in his work and to present the gospel with a good flow and clarity after so much editing of the wonderful sermons authored by Elder Falkenberg. We were allowed only 30 to 40 minutes total of preaching, including the translator.

My translator, Carlos Alberto, was proficient in understanding and speaking English and did very well throughout the whole campaign. The highlight of this campaign, for me, was when an unmarried couple, living together, responded to the Holy Spirits pleading to be baptized at the end of the last sermon. The young woman came forward, wrapped her arms around my neck and while clinging tightly to me she wept uncontrollable tears, then her fiance' came and stood to my side and put his arm around me too. I prayed with them, asked the congregation to pray quietly; then I continued to hold this couple until their grieving subsided.

I explained that if they were baptized that evening they were not to share their home again until after a marriage had taken place. We had discussed this earlier in the week so I believed they now were ready to sincerely make this commitment with God. They affirmed their decision to do the right thing so the baptismal tank was opened and one by one they stepped down into the water and were baptized by the Head Elder, Orlando Rodriquez. This provision was made by the local Conference in advance. Pastor Samuel Perez was at another church for its' baptismal service that evening. God provided an arrangement ahead of time for He knew this miracle was going to occur.

This situation had been hurting the whole church family but now our powerful God induced a healing process that would bring joy and wholeness to this congregation. It was a very real illustration to me how our sins, my sins, affect the church, our families and friends. The profoundness of God's love, grace and mercy touched my heart very deeply. The Spirit's presence was so real to me that night that I felt a greater urgency to be faithful and committed to God in obedience and in being a living witness.

My Bible was left as a gift to this young man who had looked at it many times with loving eyes. Many folk there are unable to afford a Bible, but many Bibles were given to the guests at the meetings. My heart has thrilled over and over at the defeat of Satan and the victory of Jesus with twenty baptisms. Twenty more are studying and preparing for baptism within the next six months. The district pastor, Samuel Perez, was so very happy with these decisions for Jesus. I had had a delightful day with him in his bright yellow sporty Dodge during my second week there, when we, along with another translator, went for pastoral visits to candidates who had asked for baptism and others interested in a later baptismal date.

I appreciated getting into some of these homes and feeling a bit more connected with the dear people of Potrerillos and Cuyamelito. About half of those desiring baptism were precious young people.

While there I had an interesting situation in one of the bathrooms at the church. My eyeglasses fell from my head and landed in the toilet. I hardly had time to even think of what an uncomfortable incident I had just experienced for I quickly reached into the water and pulled the glasses out. Into my hand I poured some antibacterial gel and generously applied the liquid to this precious necessity. With no towel or spare toilet paper to dry off the gel I used the blouse I was wearing as the drying agent then placed them on my face and went directly into preach with a smile on my face. That did not sour my disposition for I could only giggle to myself and think how funny it had been. It gave me another story to remember Potrerillos with and Satan once again was a defeated foe. GOD is GOOD.

Would I go again on a Share Him campaign? Definitely yes! At the age of 71 young years, God is making my life one of spiritual adventure that only He could create and fill me with such great joy. For many years I have had this secret desire to preach somewhere. When Dr. Boyd gave me an invitation to join his group of Religious Studies students and go to Honduras to preach, I was stunned and excited all in one. Only God knew my secret desire. I responded with, "I have no confidence. I am full of fear." "Good," he said, "We are looking for people who have no confidence and are full of fear." I just had to smile. Thus began my anticipation to accept the invitation two days later. This commitment meant raising funds and doing much sacrifice on my own part to get the funds needed to go. The materials provided and communication with Share Him are excellent. As the months went by I became more eager to get going. And praise God, it finally happened May 7-22 2010.

I have a suggestion for you. If you have never dared to be in a position where you feel no confidence and full of fear then you must give Him a chance to prove to you that He is able to use you, bless you, fill you with His faith, courage and boldness in something you have not ever tried before. In listening and responding to His prompting you will experience something you will never regret and cherish forever.

I'll share one more blessing. You will get to have Pastor Luis Lenore sit in your audience sometime and give you wonderful, friendly smiles to keep you going. Thank you Pastor Luis.