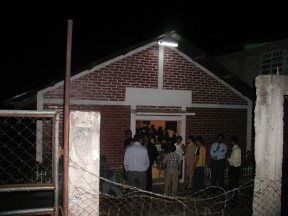 Alana's church site
Alana is making an appeal to accept Jesus as Lord and Savior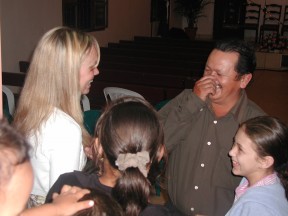 Alana visiting with a family after her sermon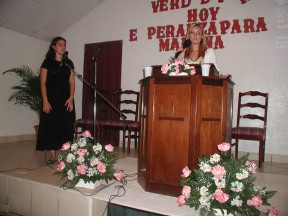 Alana and her interpreter preaching the Word of God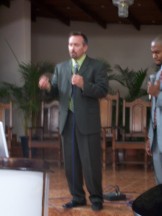 Mike preaching the Word of God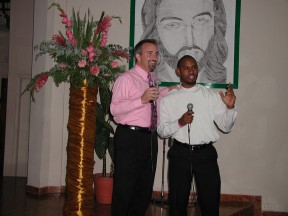 Mike and his interpreter Robert Brown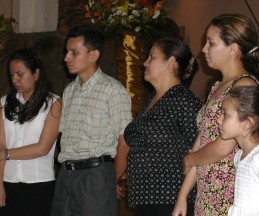 Some of the baptismal candidates just before their baptism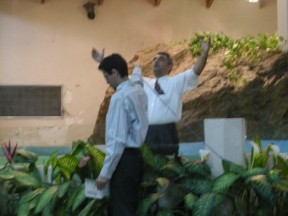 Pastor Fres praying before a baptism
Great Things Happen When God is in Control
August 7 2006 / ShareHim in Honduras, Jul. 14 - Jul. 29 '06
#45
by Michael Ward
Personal Testimony of Michael Ward.
It has been many years since I personally presented evangelistic sermons. I want to declare that God is in the business of restoring people and He is doing a great job on me. It is amazing how God works.

My eighteen year old daughter (Alana) and I planned to work together in Honduras at my site but God had other plans. At the last minute she was given an invitation to be the principal speaker at her own site. She agreed. I saw, in my daughter, a confidence that I did not have until many years into the ministry. She was nervous the first night, but it did not take long for her to establish herself, and by the time her campaign ended seventeen precious people were baptized with more scheduled in the weeks to come. This was the first time in her life she taught Bible doctrine and it was the first time she extended an invitation to someone else to accept Christ as Lord and Savior of their life. Watching her grow in grace made a profound impact in my life. I am thankful through all the ups and downs of family life and personal success and failures that Alana's wonderful mother and I were committed to keep her in Christian school and we consistently shared Jesus with her.

My site was the main central church in Tegucigalpa. This church is very similar to most American churches (mixture of professional and blue collar workers). I discovered several weeks into the campaign this site was almost cancelled because most of the members did not support a similar campaign the previous year. But the pastor and first elder were under heavy conviction from the Holy Spirit to step out in faith and have the campaign anyways. I am thankful for their commitment because eight were baptized. These baptisms were not like most of the candidates at the other sites. The eight candidates are thought leaders and professionals in the community; for example, they are doctors, engineers, lawyers and teachers. One of the lawyers is married to an ambassador. Who knows were God is going to take these individuals and how the gospel will advance through them? God needs professionals like these in the church and if we did not have the campaign they would not have come. All God asks us to do is be faithful to His calling and He will do the rest. Praise God for the work He did at my site.

Something wonderful happened the last night I was in Honduras. The campaign was over by three days and I was making preparation to travel home. I asked the pastor at my site if I could spend my last day in Honduras with him. I wanted to visit a few people who were still making a decision for Christ. He agreed. We were successful in securing another decision for Christ. At the end of the day the pastor's wife called him on his cell phone to remind him of his appointment at Channel 54 which is national television station. The pastor was a guest speaker on a very popular show hosted by two college students. The name of the show is, "Youth Song" in English (I don't know what it is called in Spanish). The topic was "Hell". Since I was with the pastor all day I asked if I could watch the show from the studio, but God had other plans for me. The pastor introduced me to the hosts as a pastor from America and that I had just completed a conference at his church on this very subject. Within fifteen minutes of walking into the studio I was wired with a microphone and placed in front of a camera along with my pastor and the hosts. For one hour we discussed what the Bible says about Hell and Death. We responded to live call-ins and the questions presented by the hosts. It is amazing how God works! God is spreading His message to the world and He finds the most creative ways to accomplish it. It is exciting and rewarding to be in the hands of God.

I don't believe I will ever be the same after this trip. I have a burning desire to spread God's message to the world. My daughter told me she wants to do another campaign next summer between her freshmen and sophomore years of college. I am bursting with joy! God is good and He is amazing. All I can say to you is don't resist God if you feel He is asking you to go on a campaign. God will do something great in your life if you obey Him. If He did it with my daughter and me He'll do it for you too. Praise God!