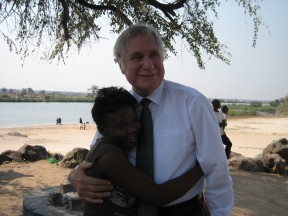 One young girl hugged me prior to her baptism.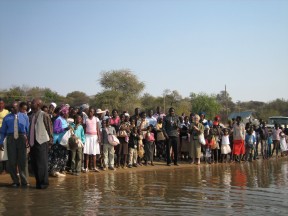 Witnesses to the baptism crowded along the shoreline.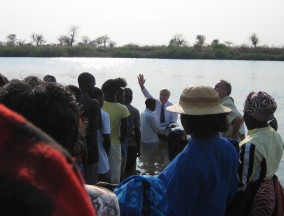 As one person is baptized, others are lined up in the water awaiting their turn.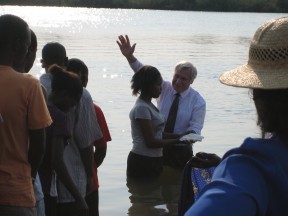 Starting life again, with the shores of Angola in the background, a young woman is baptized in the Cubango River.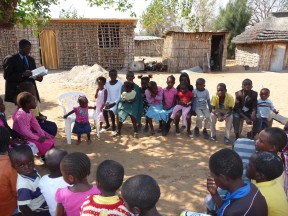 Angolan refugee children have Sabbath school underneath a tree. Note the squallor of their homes. Because of lack of finances, rental chairs were available on Sabbaths only.
Despite Problems, God Was There
September 23 2010 / ShareHim in Namibia, Aug. 20 - Sep. 4 '10
#471
by Heinz A. Volk
Campaign Site Narrative from Kasote, Kasote in Namibia. The speaker assigned to this site was Heinz A. Volk.
It was a relatively small campaign, beset with seemingly overwhelming problems. Yet despite everything, God still blessed.

The first problem was evident even before we left home. It was virtually impossible to get information. It was nobody's fault. It's just that the ShareHim coordinator changed several times, and the mission director of evangelism changed too. "Learning the ropes" was hampered by computer glitches as well as computer illiteracy.

Arriving in Rundu, we were booked into a Safari Lodge. On opening night the country's president also arrived there, and the entire area was cordoned off, with no one allowed in or out. After the head of state was settled, we were finally allowed to walk out, with our equipment, to meet our drivers in town.

All sites were outdoors—a soccer field, an open air
community centre, a settlement of Angolan refugees, and a playground beside the home of a political ambassador. As the soccer field was in use during the day, the screen was constantly moved, giving rise to concerns that the venue might have to be changed. Part-way through the series the community centre was needed for voter registration, and the campaign had to move elsewhere for a few days. One night an elder, who had picked up a load of people to bring to the meetings, had an accident in which he was injured and two passengers were killed.

There were cultural problems too. My wife conducted meetings in the playground. Although she had good attendance the first three days, it soon dwindled as some people began agitating and asking why a woman should be allowed to preach. In addition every speaker experienced computer malfunction of one type or another.

The second week attendance was down drastically, as it was the time scheduled for the regional camp meeting. The absence of so many members affected transportation, the sound system, security, and interpretation. Yet despite everything God still blessed, and at the conclusion of the meetings 38 people were baptized in the Cubango River, which separates Namibia from Angola.