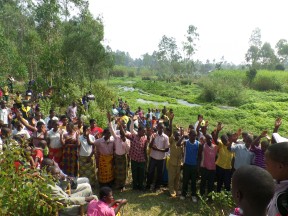 Baptismal candidates taking their vows.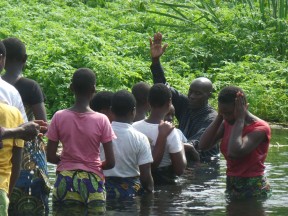 Baptism on the last Sabbath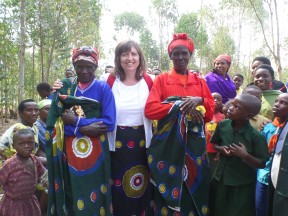 Taking a picture with two other matching ladies.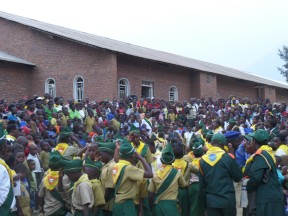 Sabbath afternoon at the Murundo Church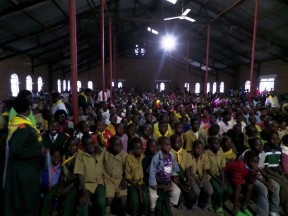 Last Saturday night at the Murundo Church
Lives Transformed by Sharing Him
September 17 2013 / ShareHim in Rwanda, Jul. 5 - Jul. 20 '13
#612
by Sue Hinkle
Personal Testimony of Sue Hinkle.
Excitement had been building for many months as individuals from the Rio Rancho Church and the Texico Conference began fundraising to be part of a ShareHim missionary team to Musanze, Rwanda, Africa. For many of the 14 people, this would be their first time preaching a sermon, let alone preaching their own evangelistic series. Ten people were scheduled to preach, two planned to conduct children's meetings, one would give health talks and one would provide technical support at 10 different evangelistic sites. Once arriving three more individuals joined our team bringing the total to 13 sites.

After months of preparation, fundraising, obtaining passports, vaccinations, program preparation, packing, etc. the day arrived, June 30, 2013 when the group departed on an adventure of a lifetime. Little did we know the impact it would have on the people there or on our own lives.

Our goal was to reach as many people as possible with the Good News of Jesus Christ; not only at the preaching sites, but also with anyone we had the privilege to cross paths with. We found the Rwandan people to be very kind, courteous and helpful and they welcomed us into their lives as long lost friends. It didn't take long to develop a strong bond between our team and the locals. Even the staff at the Virunga Hotel where we stayed became our friends. As we walked the streets of the town opportunities arose to invite individuals to our meetings, pray for the sick and buy food for hungry children who were looking through the garbage for something to eat. Many other needs presented themselves over the course of our time there, which because of God's provisions we were able to give assistance.

Shortly into our series we needed to have another speaker to cover a site who did not have one. I asked Brianna Rogers, a young lady on our team if she would be willing to go and preach although she had planned to do children's meetings at another site. Almost without hesitation she said, "Yes" and began preparing for that evening's message. You can imagine how terrifying that could be to preach a sermon in front of hundreds of people that you had not even looked at prior to this time with only a matter of an hour or two to prepare, but Brianna was willing in spite of her fear. She left the hotel for the meeting site praying expectantly for God to perform a miracle in her and she was not disappointed. God overcame her fear with His peace and enabled her to preach her first sermon. The people enjoyed her so much that they requested that she come back the next night and continue the series, which she did until the end.

I could tell you about the many miracles that God performed while we were there like lost voices that were restored just minutes before time to preach, team members lives who were transformed through this experience, the gift of preaching that was given to our speakers and the 658 people who gave their lives to Christ in baptism the last Sabbath, but space will not allow it.

I will share with you a few significant lessons that we learned from this wonderful experience. First, be willing to step out in faith for God. Almost everyone on our team did not have the money for this trip, but they went forward in faith that God would provide, which He did right on time in such marvelous and creative ways. If they had not trusted God and moved forward, I don't believe this trip would have been a reality for them. If the team members had not been willing to be used by God, they would not have experienced the miracles He had in store for them. You may not feel you have the ability to share Christ with others, but God can work through you in miraculous ways if you are just willing to be used by Him.

Because many of the speakers had never preached before some didn't know how they would be able to do the job, especially because some were afraid to get up front at their home church. Some had the issue of trying to get off work for three weeks to be a part of this endeavor. We watched God remove obstacle after obstacle as the team moved forward in this mission.

Secondly, trust God in all situations. Humanly speaking, it's easy to become stressed or overwhelmed if things don't go the way we planned. When we trust Him, He can help us to adapt to the trying or difficult circumstances that pop up expectantly and then work things out to His honor and glory. Even when things may seem impossible, with God all things are possible.

Third, if you want a renewed, vibrant relationship with the Lord, share Him with someone. When we tell others about God it strengthens our own faith and kindles a fire in our hearts. Our team is now energized and looking for more ways to spread the love of Jesus here at home. As we experience God working in our lives to reach people for His kingdom it's exciting and gives such lasting rewards!