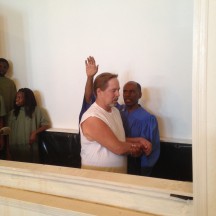 Brother Kyle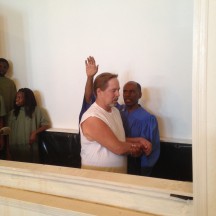 Brother Kyle
The Interesting Introduction
June 23 2014
#628
by Leroy Green
Campaign Site Narrative. The speaker assigned to this site was Leroy Green.
One of the men who were baptized has a very interesting story as to how he connected with someone from our church.
On Friday mornings, one of the local businessmen in Tulia invites community members to meet at his office to discuss spiritual issues. One of our church members (Charles Mernard) has been attending this community meeting for quite some time. On one particular Friday morning, Kyle was invited to the meetings by this businessman. Just before the meetings started, the businessman went around the room introducing each man in attendance; person by person was introduced without any mention of their church affiliation. But when he introduced Elder Charles, he took the liberty to mention that "he is from the Seventh-day Adventist Church"
Brother Kyle immediately turned toward Elder Charles & asked the simple question: "What is the Seventh-day Adventist Church?"

Elder Charles responded by holding his Bible high above his head as he boldly proclaimed "we are a church that believe in everything this book teaches, including the seventh-day Sabbath."

To the amazement of all who were listening, Brother Kyle simply responded "anybody who reads the Bible knows that Saturday is the Sabbath."

There was a somewhat awkward silence and the group moved on with their morning meeting. At the conclusion of the meeting, Elder Charles & Brother Kyle talked briefly and
Brother Kyle was invited to attend our church worship experience the following Sabbath. He accepted the invitation and has not missed a Sabbath since. Brother Kyle embraced the Truth he heard during the Revelation Seminar and as a result, he was one of the persons baptized following the conclusion of the meetings.

No one knows for sure why Elder Charles was the only one introduced with the name of his church affiliation attached to his name, but whatever the reason, it was that introduction that was used to connect the two of them together.

By the way, since the businessman invited Brother Kyle to the Friday meetings, Brother Kyle in like fashion invited him to his baptism, and the businessman did attend.